Project Teak

Cofounders and Project directors
Apoorva Rangan
Adarsha Shivakumar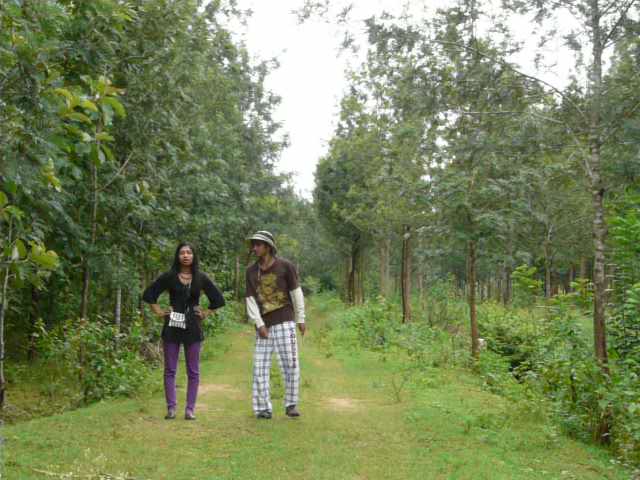 We cofounded Project Teak in the summer of 2009 in order to alleviate the concerns of the participating farmers about the Project Jatropha's viability. The global recession played a major role in their skepticism. In order to give them assurance that we were in this project for the long haul, we came up with this bonus package, in which we distributed teak, silver oak, and pongamia saplings. Teak and Silver Oak trees, which are tropical hardwood, are famous and valued for their weather resistance. They are used to make outdoor furniture, doors, and window frames. Project Teak is providing a future long term source of revenue for farmers compared to the more immediate and short term economic benefits of Jatropha curcas. In 2009, for Phase I of Project Teak, we have distributed 813 teak, 1279 silver oak, and 225 pongamia saplings to 22 farmer leaders of Phase I and II.
In 2010 summer we expanded Project Teak as a part of Global Call to Youth. Though Project Teak has become a subdivision of Global Call to Youth, we are keeping this web page separate as we plan to record the activities involving adult farmers here as opposed to the activities involving rural schools which will be covered in Global Call to Youth main page.
We launched Phase II of Project Teak with a different goal. As we need two years for the jatropha plants to mature and reach its full potential in terms of yield, it is very difficult for us to convince farmers of other villages to take up jatropha cultivation. We have improvised our approach through Project Teak. During our 2010 summer visit, we did convince several farmers from two neighboring villages, Dallal Koppalu and Mahadevapura, to cultivate jatropha. However, this came with a price. We are using Project Teak activities as an incentive. First we involved 268 farmers from 14 villages who planted 20,000 forestry saplings such as Teak, silver oak, Pongamia, neem etc. They love those plants. The farmers were more than happy to participate in Project Teak as they got the seedlings of their choice. They welcomed our idea and we took this as an opportunity to persuade them. In August of 2010, We met with the participant farmers of Project Teak from the villages Dallal Koppalu and Mahadevapura in small groups and convinced them to cultivate jatropha in their unused, waste land and in their fence. In addition, some even agreed to do intercropping. This helped us to start the Phase III of our original plan- jatropha cultivation.
Please contact Apoorva at apoorva@projectjatropha.com if you are interested in sponsoring Teak, Silver Oak, and Pongamia saplings to farmers or rural high schools.