Phase II (implementation completed)
-We have chosen more than 50 self help group members to participate in the project from two villages, Kirijaji and Thippalapura.
-We have purchased 12,000 high quality Jatropha seedlings from Labland Biotechs. The farmers have successfully planted most of the seedlings between June-Aug of 2009. We had the privilege of looking over the process during our visit in July 2009.
-We had given the choice of either planting Jatropha as a hedge plant or part of intercropping. We have used around 12-13 acres in all for Phase II. Many farmers used intercropping with tobacco. This was a very interesting development that we were unaware of. I think it will help the farmers as it is not replacing the tobacco in its entirety.
Apoorva pointing the Jatropha intercropping with Tobacco to Adarsha
Adarsha and Apoorva with Phase II farmers who have done intercropping with Tobacco
-The field workers of Parivarthana and farmer leaders have successfully completed the training course in the agronomics of Jatropha cultivation offered by Labland Biotechs. They were trained in the following areas:
Adarsha and Apoorva discussing Phase III with Mr. Rajegowda
Nursery Raisings: Seed treatment and polythene bags filling and sowing in bags. Stump cutting, bed formation and raising of nursery plants in raised mud beds.
Jatropha Cultivation: Jatropha seedlings planting in fields specially making pits, field plowing, planting of seedlings in proper distance, manure application and plant protection.
End Use: Collection of ripened Jatropha fruits and seed processing. Bio-diesel making by using Jatropha seeds and use of this diesel in running of vehicles, pump sets and other machineries where diesel required.
-We are in the process of collaborating rural schools. We have given presentations about our project and global warming. We are motivating them to join us in convincing more farmers to participate in our project.
-In addition, if they join our efforts to transport seeds to Labland Biotech, the company will make them part of their "Jatropha Information Dissemination Centers" program. the participating school will be eligible to receive monetary benefits
In USA, we have contacted nearby middle and high school officials, members of global education committee to bring awareness of the project. We have written articles in school news papers and done a press release about the first phase of the project.
We did a workshop of the project in the middle of April 2009 in our high school .
We have also held meetings and presentations to the officials of a local biofuel company, Sirona Fuels and their sister organization Sirona Cares. We have successfully established a partnership with them. We have attained a nonprofit status by their generous sponsorship.
Discussing Project Jatropha
Callie presenting Project Jatropha to Sirona Fuels
Project Jatropha Team with Sirona Fuels
During the visit of Summer 2009, we( Adarsha and Apoorva) took a 7 day training course at Labland Biotechs on agronomics of Jatropha cultivation. On the first day, we learned about the selection criterion that is used to determine the seeds that Labland Biotechs germinates in order to propagate as seedlings. The process involved softening the seed coats with a dilute hydrochloric acid solution in order to speed up germination. In addition, we created a batch of artificial soil that the seeds were planted in. The soil was a mixture of sand, red dirt, manure, and coconut husks, designed to supply plenty of water and nutrients to the seeds after they sprout. The second and third day, we were involved in the conversion of both regular, edible vegetable oils and Jatropha oil into biodiesel on both a commercial and laboratory scale. While both processes are similar, the conversion of Jatropha oil is more complex since it is inedible. On the 4th and 7th day, We started the process of identifying fungi and bacteria found on Jatropha seeds by isolating and growing them in selective agar media, and the conversion of biofuel into biodiesel on a lab scale. On the 5th and 6th days, we also learned about how Labland Biotechs used tissue cultures to grow high-quality Jatropha seedlings, and helped to create the media in which the young plants were grown in. We also transplanted the young seedlings and identified the ones with diseases. This was a great education for us. We were virtual farmers! Thanks to Dr. Sudheer Shetty, Dr. Geeta Singh and Mr. Abhi Gurukar for guiding us through this training.

Some pictures of Apoorva and Adarsha performing experiments during their 7 day course at Labland Biotechs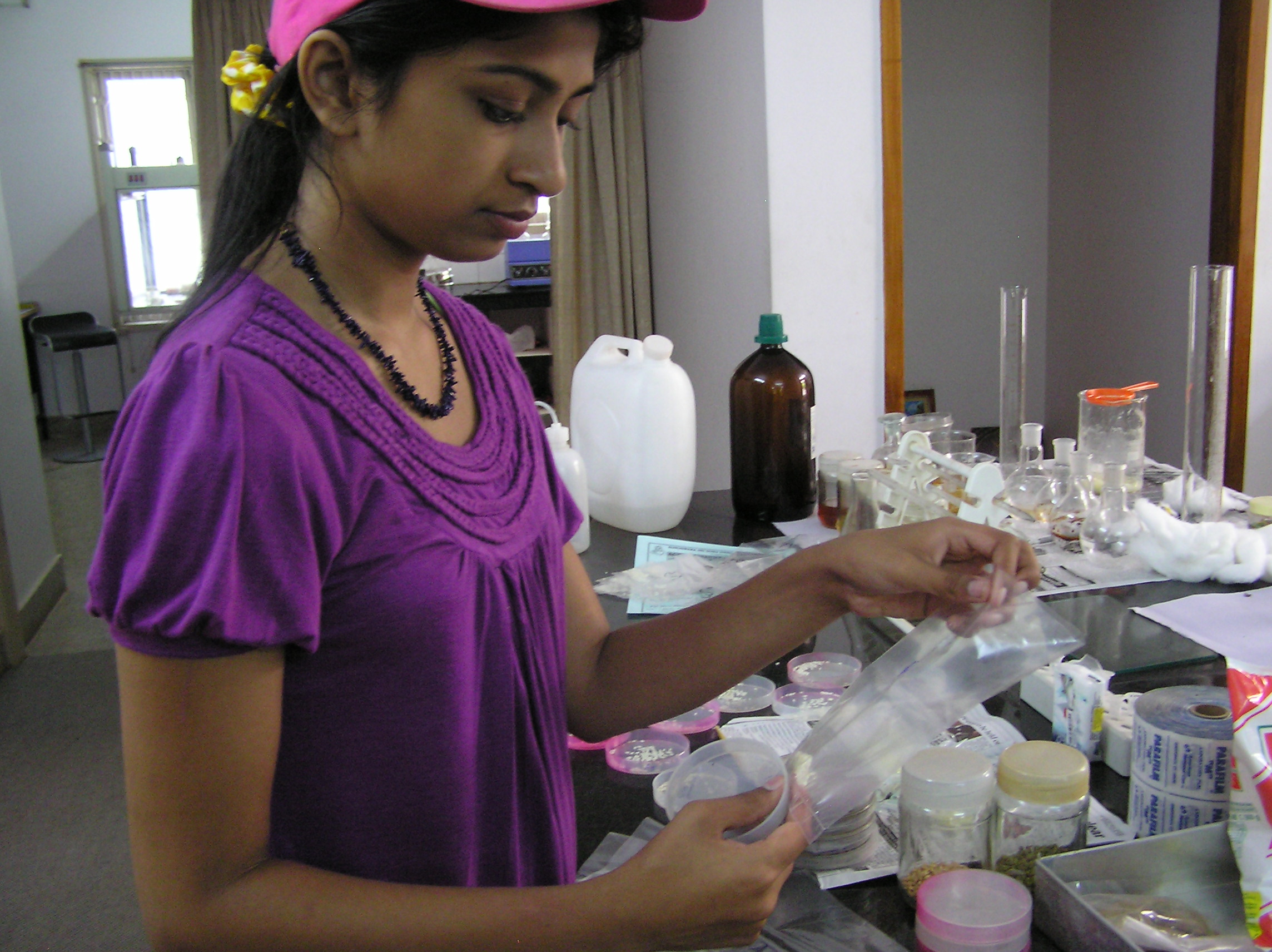 Apoorva performing an experiment at one of Labland Biotechs' laboratories.
Adarsha performing an experiment with the aid of Ms. Subina.
Labland Biotech's Jatropha Plants
Unripe Jatropha Fruit in the Labland Biotechs Plantation
We spent a lot of time with the participating farmers. Apoorva has interviewed some selected farmers but overall, we have listened to the concerns of all of them. It is not easy being a participant farmer of Project Jatropha. They have lots doubts about the success. The bad part is, they will have to wait for two years to see the real results. In order to help boost their confidence we have come up with a sister project called Project Teak. (for more information about Project Teak please visit the Project Teak page. In short, we have distributed Teak and Silver Oak plants to these participant farmers as an added bonus. This will have long term benefits that the farmers are very aware of.
Apoorva with Venktesh, a model farmer from Kirijaji
SHG Members of Kirijaji singing
Apoorva with Phase II farmers of Thippalapura
Apoorva with many of the farmers of Kirijaji
SHG Member tending to Apoorva's Cut
Apoorva holding a Jatropha Plant
Apoorva and Adarsha interviewing a Phase II farmer of Thippalapura
Apoorva interviewing a Phase I farmer of Kirijaji
It was pouring most of the time during our stay. We bid good byes to the farmers and returned to CA 19th of Aug with a good feeling. We have finished the implementation of Phase II as planned!!
For a detailed account of day to day experience please visit our blog
http://projectjatropha.blogspot.com/