Project Jatropha wins the 2009 Presidential Environmental Youth Award
EPA Region 9

Callie, Apoorva, Lisa P. Jackson, Adarsha, and Sharon Jang (Region 9 Coordinator)

The Project Jatropha Team
The PEYA Award Winners with President Obama and Lisa P. Jackson
We would like to thank PEYA and all it's staff for giving us the opportunity to meet President Barack Obama and Lisa P. Jackson, the administrator of the EPA, on May 21, 2010.
Adarsha Shivakumar wins the 2009 Brower Youth Awards
North America's Top Green Youth Leaders Spotlighted As Prestigious Environmental Award Celebrates 10th Anniversary
San Francisco, CA—Who's responsible for some of North America's biggest environmental victories, such as saving one million acres of boreal forest from industrial logging, helping to prevent the permits for twenty new coal plants and five mountaintop removal coal applications, and transforming food purchasing across the University of California system? Young people who have yet to celebrate their 23rd birthdays.
On October 20, 2009, Earth Island Institute bestowed the 2009 Brower Youth Award to six of North America's boldest young environmental leaders. The 2009 prize recipients include:
• Sierra Crane-Murdoch, 21, of Vermont, for uniting the movement to battle coal
• Adarsha Shivakumar, 16, of California, who implemented a biofuel solution in rural India
• Alec Loorz, 15, of California, the youngest presenter of Al Gore's "The Climate Project"
• Diana Lopez, 20, of Texas, who created an organic food source for San Antonio
• Hai Vo, 22, of California, for helping transform University of California food purchasing
• Robin Bryan, 21, of Manitoba, who helped protect one million acres of forest in Canada
The award recipients received a $3,000 cash prize for their achievements and recognized at the Brower Youth Awards 10th anniversary gala celebration in San Francisco on October 20, 2009, with 900 people in attendance.
The six winners were chosen from more than 125 applicants for their creative and effective work tackling problems ranging from food justice to deforestation, global warming to pollution.
The thirteen judges for the award are leaders in business, journalism and the nonprofit sector, including Josh Dorfman of The Sundance Channel's "Lazy Environmentalist", Judith Helfand, the director of the global warming film "Everything's Cool", and Philippe Cousteau, CEO of EarthEcho International and grandson of Jacques Cousteau.
The Brower Youth Awards is run by Earth Island Institute, a non-profit, public interest, membership organization that supports people who are creating solutions to protect our shared planet. Funding for the Brower Youth Awards comes from generous support by Earth Island members, as well as Visa, Clif Bar, and Klean Kanteen.
Short summaries for all 2009 Award recipients follow, and fuller summaries, videos and photographs are online at www.broweryouthawards.org/2009media
Adarsha contributed the entire cash award to the expansion of Project Jatropha. We would like to thank the Brower Family for creating the award.
Proclamation from the Bay area City Councils.
Adarsha has received Proclamation from the Mayors of City of Walnut Creek, Berkeley and San Francisco for leading this project.
Commendation from Diane Feinstein, US senator from CA
Adarsha and Apoorva received the certificate commendation for co founding the project.
Commendation from The U.S. Speaker of the House, Nancy Pelosi:
Adarsha received the commendation for leading the project.
Meeting with Dr. Fritjof Capra

Adarsha met Dr. Fritjof Capra, renowned physicist and co-founder of the Center of Ecoliteracy to discuss the possible green projects that can be launched through the Green Council of The College Preparatory School. This meeting was arranged by the Brower Youth Awards Committeee. Adarsha wants to thank Dr. Capra for his time and advise.
Adarsha and Apoorva win the National Barron Prize
2009
"Boulder, CO, September 15, 2009 – The Gloria Barron Prize for Young Heroes, an award that honors outstanding young leaders who have made a significant positive difference to people and our planet, announces its ten 2009 national winners.
The 2009 winners of the Barron Prize represent great diversity from all across the country. Winners each receive $2,500 to be applied to their higher education or to their service project. The 2009 winners are:
The 2009 winners are:
Adarsha and Apoorva, ages 16 and 14, of California, who co-founded "Project Jatropha" to promote the use of the Jatropha plant as an eco-friendly and economically sustainable source of biofuel in rural India.
The Barron Prize was founded by author T.A. Barron and named for his mother, Gloria Barron. "
Apoorva and Adarsha would like to thank T.A. Barron, the Barron Prize Founder, and Barbara Richmond, the Executive Director of the Barron Prize, for choosing them. We will be reinvesting the $2,500 back in to the expansion of Project Jatropha.
Project Jatropha Team Wins Action for Nature International Young Eco-Hero Award 2009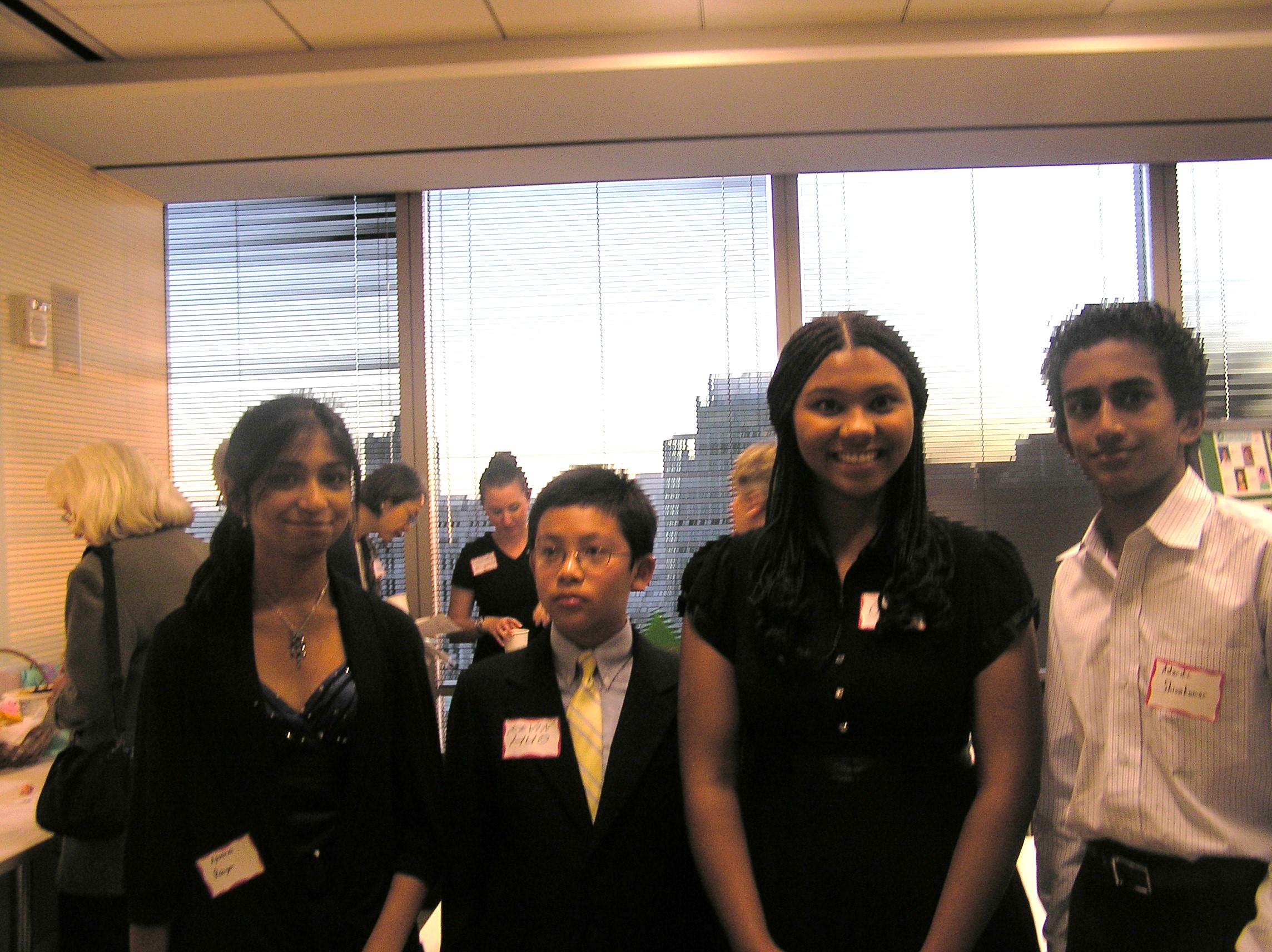 Hot off the Press!
AFN announces its 2009 INTERNATIONAL
YOUNG ECO-HERO AWARDS!
"With great pleasure Action For Nature announces its 2009 International Young Eco-Hero Awards, which recognize young people 8 to 16 years of age for their environmental achievements. We hope the accomplishments of these outstanding young people will inspire many others to preserve and protect the Earth upon which all life depends. The winners of AFN's International Young Eco-Hero Awards program receive a cash prize and a special certificate, as well as public recognition on our website and elsewhere.Our judges are experts in environmental science, biology and environmental health. They select our Young Eco-Heroes from applicants from around the world. They are looking for young people to follow in their footsteps.We are proud of the 2009 winners, and of all the applicants from around the world."
Adarsha and Apoorva want to thank the Action for Nature Organization, Beryl Kay, and Hoi Y. Poon for their support. We are using the cash prize towards the expansion of Project Jatropha!
Project Jatropha Team Wins 2009 Teen for Planet Earth
G
old Service Award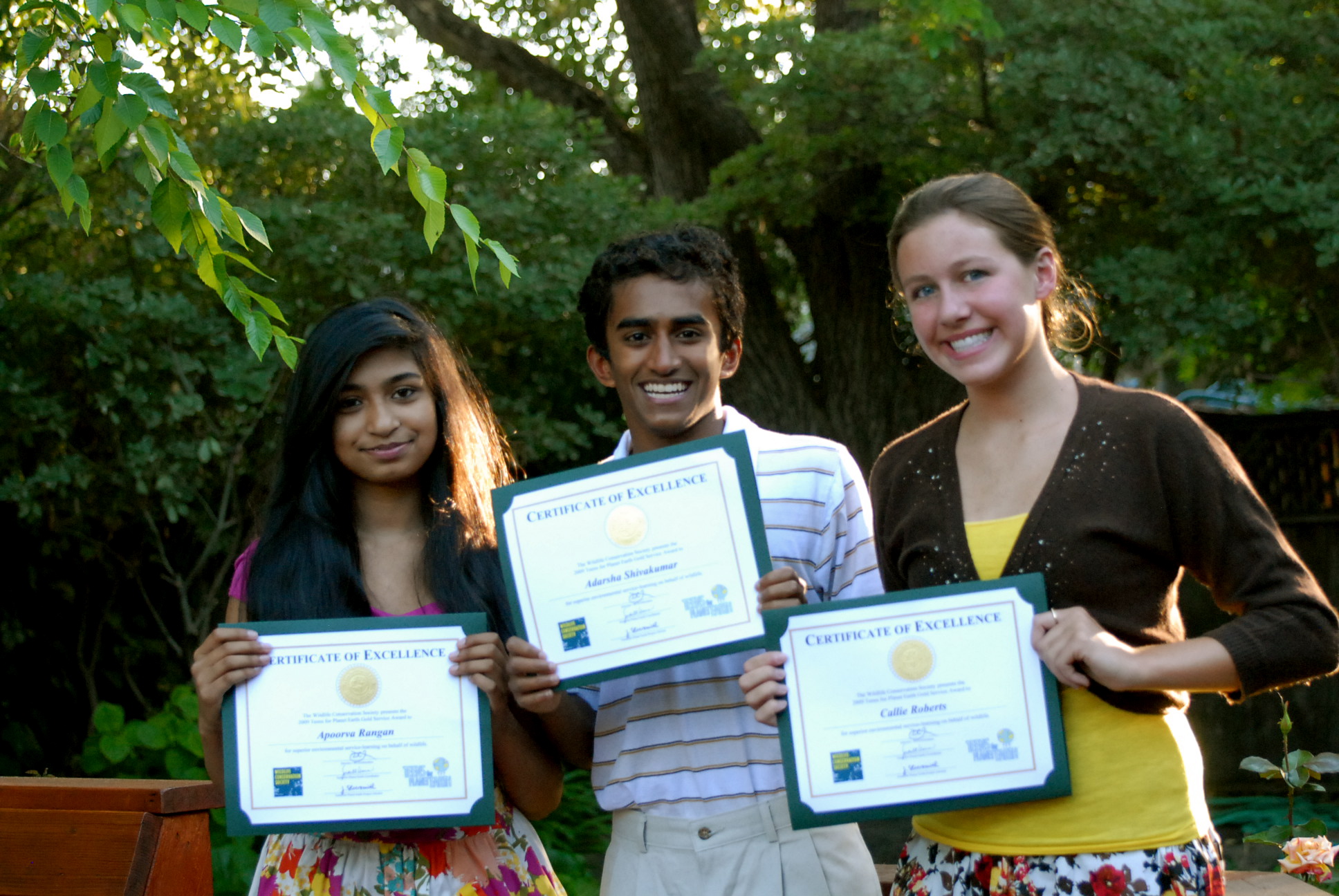 Teens for Planet Earth is a social networking site for teens who want to protect our planet. it was developed by the Wildlife Conservation Society's Education Division. It also provides technical support for teens and adult advisors around the world who develop and implement environmental service-learning projects. Each year, Teens for Planet Earth recognize teens across the globe for service-learning projects that demonstrate their commitment to the environment. The teams whose projects are deemed to be of exceptional quality are given awards at three levels: Bronze, Silver, and Gold.

We are one of the proud recipients of the 2009 Gold Service Award. We are using the cash prize towards the expansion of Project Jatropha. We want to thank Jeanine Silversmith and Judith Unis for their continuing support and advice & the Wildlife Conservation Society for the cash award.
The project leader Adarsha Shivakumar is featured as luminary on Inspire Me Today:http://inspiremetoday,com
Please visit this website to listen to his inspiring interview

---
Adarsha Shivakumar
Adarsha is a fifteen year old Indian American out to change the world as the executive director of Project Jatropha.
Tomorrow we'll seize the day and throttle it! ~ Calvin & Hobbes
If today were my last day on Earth and I could share 500 words of brilliance with the world, here are the important things I'd want to pass along to others...
All of us trip and fall at points in our lives. Some of us stay down, too scared from the pain to get up, or just too unwilling to work to get up. Some of us get up, but we are hesitant to go forward, and just stay where we are. Some of us get up and move forward, slowly, but never with the pace and confidence that we earlier had in our stride. But there are a few of us who get up, dust ourselves off, and go forward stronger, learning from our mistakes and ready to take on any obstacle.
We fear falling down, and consequently slow our pace or stop completely so that we don't get hurt. We fear pain, so we shorten our goals so that we can't hurt ourselves in trying to achieve them. But, is it worth giving up our dreams to avoid all pain? Is it worth giving up our hopes and goals to avoid something that is inevitable? Should we just lock ourselves away, along with everything we dream of doing? No. We cannot. We should not. We must not let fear dictate our lives.
We must not give up our dreams so easily. Too many of us live for others. Build our lives around what people want us, expect us, to be. Conform, mold, tear apart our true selves, our true ambitions, dreams, and goals, just to appease others. Your life is not somebody's puppet, but you must take the strings into your own hands. Do not give weight to other people's jeers, their insults. Take them in stride, reflect on them, but don't let them dictate your actions, your choices, your life. Because in the end, it doesn't matter what they think of you, what they see you as. Brave. Terror. Cold. Joyful. Heartless. Savior. All that matters is what you choose.
Adarsha Shivakumar and Apoorva Rangan received an Award of Honor 2008 from the Rotary International, Rotary Club Hunsur, for their successful completion of Phase I in Hunsur Talkuk, India
Adarsha and Apoorva with the religious leader Sri Sri Nataraja Swamiji, President Ramalingam, and secretary Eeyanna of the Rotary Club International Hunsur.
Adarsha Shivakumar and Apoorva Rangan in the Rotary Club felicitation function.